Open Innovation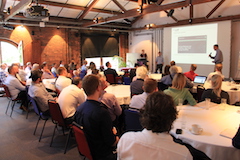 Open, progressive and ground breaking innovation is at the heart of everything that Tilix does.
Tilix is currently sharing GDPR tools, tips and techniques through a series of seminars, most recently in Bristol. Read our Preliminary Analysis of the GDPR Survey.
At Tilix Seminars industry experts share best practice and experience that is relevant to parties across the whole energy value chain. There are valuable insights and analysis for those who are at the cutting edge or are just starting to find out about smart energy.
Please join our mailing list if you'd like to hear about future Tilix events. Through 2018, we will have one seminar per quarter. The working titles are "Digital Transformation in Energy", "Optimising Supply Businesses" and "Innovation in Energy".
Effective sharing of ideas, opinions and information is vital for success in the transformation to smart and digital energy.Therefore, Tilix enjoys educating and sharing knowledge with our energy industry colleagues. That's why we have our own blogs, white papers and seminars. We are regularly invited to speak at events and write for professional publications.
Impact Investing
Tilix uses retained earnings to support nascent, potentially game changing ideas in smart energy. Tilix has a small number of strategic investments in clean-tech and smart energy start ups. These entrepreneurs value the cash, advice, knowledge transfer and connections Tilix provides.
This angel investing is proving to be a great way for Tilix to adapt to the emerging smart energy market. It is also a small but important contribution to winning the fossil fuel end game.
One of our key angel investments is with Uniti EV who have designed a premium electric city car with a unique approach to safety, sustainability and user experience.
Tilix are enjoying the journey from concept to the roads in less than 4 years. We are super excited about the progress Uniti has made in forming partnerships with Siemens and Kuka for mass production. We are delighted to support Uniti in securing Series A funding later in 2018.
Consulting
As well as having expertise in electrical engineering, EVs, battery storage, renewables and energy efficiency, Tilix consultants know the gnarly details of buying, selling, moving & metering energy.
Tilix knows intimately about the dynamics of price and volume in competitive retail markets. Our team has experience of managing CME as well understanding how customers are won, lost and transfer between products in BAU situations.
One of our key clients is Logicor, the Wakefield based pioneer in energy. Their flag ship products are compelling replacements for existing gas and electric heating.
The Clear Heater System is an all-electric phased infrared radiant heating system using patented technology. The InLine Hot Water System is powered by electricity and can replace your existing water boiler and storage tank in your home.
Entering the electricity supply market will enable Logicor to help customers reduce their energy bills even further. In record time, during spring and summer 2017, Tilix integrated the systems required for Logicor to supply electricity. We look forward to supporting Logicor through full market entry and beyond.