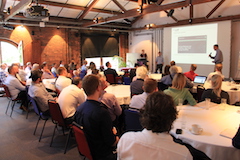 By embracing General Data Protection Regulation (GDPR), the energy industry is putting privacy at the front and centre of everything it does. To find out more, join Tilix and our guests for the GDPR in Energy Seminar. Buy tickets on Eventbrite.
This seminar will share best practice and experience that will be relevant to parties across the whole energy value chain. There will be valuable insights and analysis for those who have it all sorted or are just starting to find out about GDPR.
Read our Preliminary Analysis of the GDPR Survey. Please join our mailing list if you'd like to hear about future Tilix events.
Uniti is an electric city car designed to be agile in urban environments, with a unique and contemporary approach to safety, sustainability and user experience.
As early stage investors and advisors, Tilix are enjoying the journey from concept to the roads in less than 4 years. We are super excited about the progress of the current crowd funding and the partnership with Siemens for mass production.
We are looking forward to helping Uniti establish their new production facility in Landskrona and launch their new electric car on 7th December 2017.
Logicor is a pioneer in energy. Their flag ship products are credible replacements for existing gas and electric heating.
The Clear Heater System is an all-electric phased infrared radiant heating system using patented technology. The InLine Hot Water System is powered by electricity and can replace your existing water boiler and storage tank in your home.
Entering the electricity supply market will enable Logicor to help customers reduce their energy bills even further. In record time, during spring and summer 2017, Tilix integrated the systems required for Logicor to supply electricity. We look forward to supporting Logicor through full market entry and beyond.